King Kong Skull Island Film – Halong Bay
Warner Bros Pictures and Legendary Pictures unveiled the trailer at the San Diego Comic Con on Saturday.
The first section of the trailer depicts scenery from Ha Long Bay and Van Long Reserve in sunlight.
Images showing of a group of white heron flying across the sky in Ninh Binh are interlace with images of Australian mountains, making for a breath-taking scene.
The first village that is destroyed by King Kong was shot in Ninh Binh and Quang Binh provinces. Cane-brakes and bamboo forests are very familiar in these regions. The trailer also reveals the appearance of Vietnamese in the role of indigenous locals.
A flock of storks overshadows the sky at the end of the 2.24-minute-long trailer, a picturesque scene for all tourists to Ninh Binh Province.
In the movie, Brie Larson plays a photographer while Tom Hiddleston plays a British SAS army expert. They arrive on the island for their own missions and discover the giant beast.
The trailer only shows King Kong's head, legs and hands separately, the full image of the huge creature hasn't yet been revealed.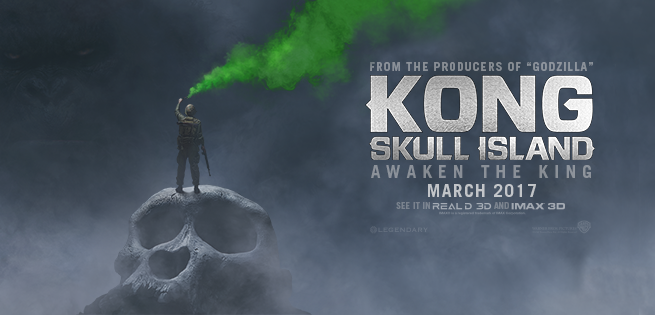 Kong: Skull Island is an upcoming American monster action-adventure film directed by Jordan Vogt-Roberts. The film is a reboot of the King Kong franchise and will serve as the second installment in Legendary Pictures' Godzilla–Kong film series. It stars Tom Hiddleston, recent Oscar-winner Brie Larson, Samuel L Jackson, and John C Reilly.
In the 1970s, a diverse team of explorers is brought together to venture deep into an uncharted island in the Pacific – as beautiful as it is treacherous – unaware that they are crossing into the domain of the mythic Kong.
The blockbuster was produced in Hawaii, Australia and Viet Nam from October 2015 to March 2016 with the budget at US$190 million. It will be released on March 10, next year, in the US.