Halong Bay
Ha Long Bay (also "Halong Bay") is in northern Vietnam, 170 km (105 mi) east of Hanoi. The bay is famous for its scenic ocean karst topography and is often included in lists of natural wonders of the world. Ha long Bay is a bay located in the area of the Gulf of Tangkia, north of the Socialist Republic of Vietnam. It has an area of 1,500 square kilometers and has a coastline about 120 kilometers away from Hanoi. The name was based on the pronunciation in the Vietnam language "Viet Nam Ha Long".
Towering limestone pillars and tiny islets topped by forest rise from the emerald waters of the Gulf of Tonkin. Designated a World Heritage site in 1994, Halong Bay's spectacular scatter of islands, dotted with wind- and wave-eroded grottoes, is a vision of ethereal beauty and, unsurprisingly, northern Vietnam's number one tourism hub.
Sprawling Halong City is the bay's main gateway but its dowdy high-rises are a disappointing doorstep to this site. Most visitors sensibly opt for cruise-tours that include sleeping on board within the bay, while a growing number are deciding to eschew the main bay completely, heading straight for Cat Ba Island from where trips to less-visited but equally alluring Lan Ha Bay are easily set up.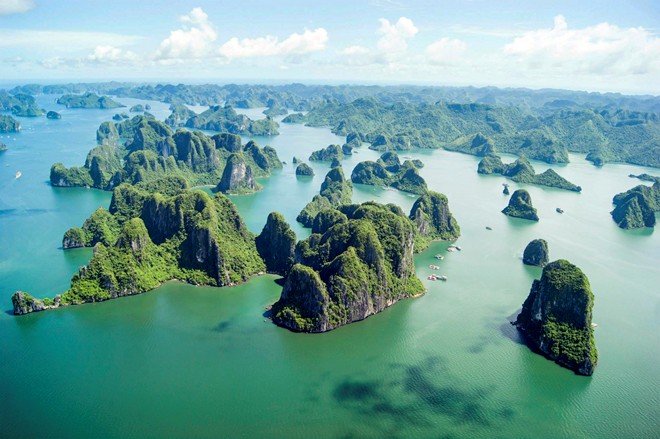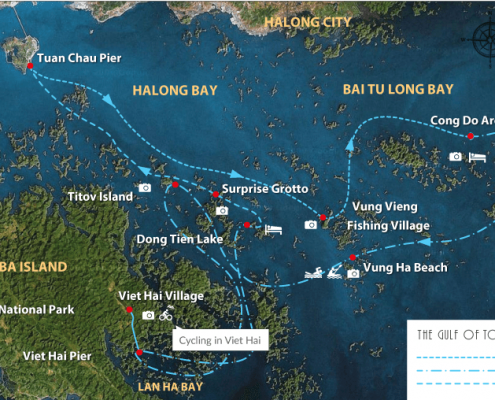 Halong Bay in the Gulf of Tonkin
"Ha Long" means "Bay of Descending Dragons" ,though prior to the 19th century this name was not recorded in any document or archive. When mentioning the present-day Quang Ninh Sea or Ha Long Bay, old historical books often referred to them by the names of An Bang, Luc Thuy or Van Don. Not until the late 19th century did the name of Ha Long Bay appear on a French Marine Map. The Hai Phong News, a French newspaper of the time, had an article, Dragon appears on Ha Long Bay, reporting the following story: In 1898 a sub-lieutenant named Lagredin, captaining the Avalanse reported seeing a huge sea snake on Ha Long Bay. This was also witnessed by many of the crews. Thus emerged the European image of the Asian dragon. Whether this appearance of a strange animal looking like a dragon resulted the name of Ha Long Bay is not known.
In Ha long Bay, there are around 1969 limestone rising from the sea. On top of each island has a massive amount of trees. There are several large caves located within the island. The biggest cave in the Bay area is a wooden cave, formerly known as the Grotte des Island. The largest islands in the Bay area Gad bah Island and Tuan Chau Island. There are people living permanently in these islands. On these islands, there are many beaches and hotels serving the tourists. Some small island is the Habitat of several animal species, such as chickens, antelope, wild monkeys and species of lizards. These islands are named from the shape such as Koh Chang, Koh Kaichon, Koh Langka etc.
The Ha Long Bay archipelago is made up of 1,969 islands, both settled and uninhabited. These can be accessed from various ports, though in the special case of Cat Ba you can also arrive either by car, motorbike or bus (via Haiphong) or combined bus/boat (from Hanoi via Halong City).
This unique UNESCO World Heritage Site is a popular place for tourists and it is good to know that large parts of Ha Long Bay are officially protected from development. The islands vary greatly in size and shape as well as structure.
Visitors might want to allow a few days to explore this magical bay as its attractions are extremely numerous.
The official organization which promote Halong Bay and provide help and info on the destination is Discover Halong, the team can be found at Paradise Elegance Cruise