Amazing Cave Halong Bay
Amazing cave is the most famous cave in Halong Bay which is in the centre of the UNESCO World Heritage area.
Located inside Bo Hon Island, in the middle Halong Bay, Surprise Cave is considered the most magnificent cave in this charming bay.
Most names of tourist attractions in Halong originate from very interesting stories and Surprise Cave is one of them. Actually at first the cave was named "Grotto de la Surprise" (The cave of Surprise) and recently, it has been shortened to "Surprise". This title describes the very first feeling of tourists when they entered the cave with full of "wow", "amazing", and "unbelievable".
At first, after few steps into the cave they tourists might think that the cave seems like a narrow and minuscule one, but with just few more steps into the cave, it becomes bigger and bigger. The tourists could not imagine how a tiny path could lead to such a giant, airy, and spectacular cave.
For travelers who have imaginative mind, the inner space of the cave can be seen as a large theater, a theater that was made by Mother Nature. The ceiling is decorated with stalactites like colorful chandeliers and the floor with plenty of rocks in diverse shapes of elephant, horse to tree, leaves, and flowers. The further tourists go into the cave, the more interesting shaped rocks appear. Some traveler says that the cave can also be called Cave of Unfathomable Depth.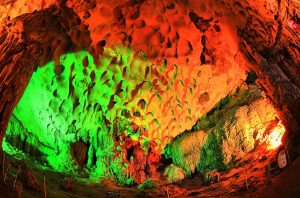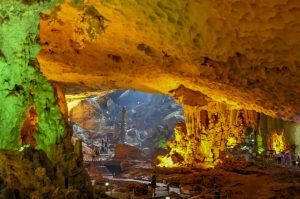 There are two partitions in Sung Sot cave. The first one  is similar to a theater hall with many stalactites hanging from the high ceiling. A narrow passage leads to the second chamber, where a flow of natural light bathes the surfaces. The light is filtering in from above, through a large opening creating a natural skylight, this opening also serves as the exit from the cave.
The deepest point of this chamber a "royal garden" appears with a clear pond and a fascinating landscape of small mountains. Many birds and plants here.
Surprising cave covers some 10,000 m2. There are thousands of stalactites and stalagmites along the 500-meter paved passage. Light posts line the passage and illuminate the amazing scenery. Spotlights of varied colors are placed in such a way to be unobtrusive and add to the enchantment of the grotto.
Sung Sot cave is about 30 metres high, the walls and innumerable cracks and crevices are evidence of millions of years of spectacular natural creation. Close to the exit a mammoth formation stretches from floor to ceiling, tapering at the center to form a concave pillar that appears to be keeping the ceiling in place. Walking through the cave ones imagination can run wild conjuring up all kinds of fantastic creatures and fanciful creations.
Not only Sung Sot cave, on coming to Ha long Bay, travellers will have chance to see many other Halong caves like Trinh Nu Cave, Tam Cung Cave, Luon Cave….
Let's come to Vietnam, come to see Halong Heritage – The 7 new World Natural Wonder