Paradise Elegance Cruise 5 stars boat in Halong Bay .
Paradise Gruises group has been in the luxury travel and hospitality industry for more than eight years and running. Starting from just one junk boat back in 2006, the company and the management team have worked hard in achieving excellence not only for the visitors of Halong Bay, but also exceeding expectations from the local government. Our reputation as a company and as a group continues to flourish as we build more trustworthy brands in other sectors in the industry, adding new concepts and serving other clients in the country including restaurants, hotels, and even our own media & production team.
Transcending the boundary between modern style and classic sophistication, our Paradise Luxury Elegance is the newest cruise ship to grace our Paradise fleet and a welcome contemporary addition to our more traditional junk designs.
Each one of our 31 stylishly designed cabins has intimate, cozy lighting, a private balcony, and a floor to ceiling glass door offering the most spectacular Halong Bay views even from within.
The design has been refreshed but the philosophy remains constant, as our newest nautical masterpiece continues to take you to the highlights of Halong Bay at the least busy times, and we commit to offering the highest level of service in the Bay.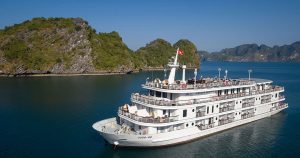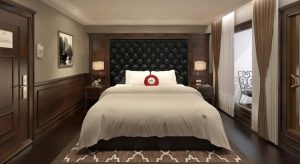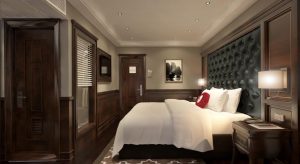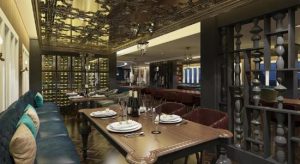 Our Paradise  Elegance also houses Halong Bay's newest floating spa, a sumptuous haven in which to relax and rejuvenate with a varied list of unparalleled spa therapies that remain at the pinnacle of onboard relaxation.