FREE Hanoi walking tour when booking online with us
Consistently voted as one of the world's best value cities to visit by prestigious travel websites or magazines such as TripAdvisor, PriceofTravel, and Sun Daily, Hanoi is definitely a not-to-miss destination in Vietnam. Alongside with the modern high-rise towers and large commercial centers, Hanoi has still well maintained its iconic beauty with old houses, ancient temples and pagodas, and historical sites. Too often visitors think of Hanoi as a stop-over en route to Halong Bay than a worthwhile city to visit. We want to challenge that.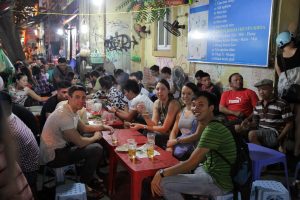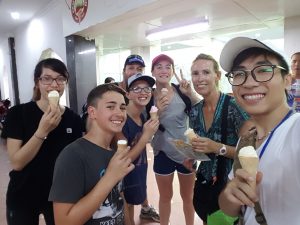 Why a Free tour?
It should not cost anything for us to show you our love of Hanoi, and to express our sincere gratitude for valuable customers who booked Halong Bay cruises with us. Most importantly, it's our chance to get to know you and your expectation when visiting Hanoi and Halong Bay, more than just on an automatic engine. It is in this tour that we are able to exchange thoughts and ideas, learn about your culture, and help you experience a part of our culture too. The tour is both fun and meaningful, we promise.
What do we mean by FREE?
The tour is completely FREE, and our tour guide will show you around the essence of Hanoi's 36 guilds and streets. FREE coffee included too. Our tour is on a shared basis with maximum of 6 persons on tour.
What will you see?
Our trip in brief: Hang Trong – St. Joseph Cathedral – Hoan Kiem Lake – Opera House – Nguyen Huu Huan – Hang Ma – Hang Giay – Dong Xuan Market – Bach Ma Temple
From our office , we will head to  Nha Chung Street to visit the St. Joseph Cathedral – a French colonial architecture, which resembles Notre Dame de Paris. Impressive and ancient architecture aside, the Cathedral is an ideal place where you can get exposure to the bustling life of Hanoians: from street stalls to high-end restaurants; from noisy groups of friends to sweet couples taking wedding photos.
From the St. Joseph Cathedral, our guide is eager to take you to Hoan Kiem Lake – the most beautiful flower basket in the heart of the capital city. Here, you can enjoy yourself in the line of pedestrians, visit Ngoc Son Temple, and take photos with your beloved companions. Our walking tour will then continue with another French architecture: Hanoi Opera House – one of the city's most cultural and architectural monuments.
At Nguyen Huu Huan Street, which is very famous for its special coffee, our guide will treat you to a complimentary Egg Coffee – a specialty and a pride of Hanoians. Bring a good camera if you want to catch striking pictures at Hang Ma Street and Hang Giay Street, where colorful toys and votive offerings are sold.
Shopping lovers will be very exciting when setting foot in Dong Xuan Market, at the West end of Hanoi Old Quarter. Dong Xuan is the largest market in Hanoi where you can find everything you need at cheap price: from foodstuffs, household goods, to clothes, jewelries.
Bach Ma Temple is the final destination in our trip. This city's oldest temple is considered as one of four guardian god temples in Hanoi (together with Voi Phuc Temple, Kim Lien Temple, Quan and Thanh Temple).
How long does the tour last?
Our tour lasts 3-4 hours and can run in the following time slots: 08:00-11:30, 14:00-17:30. Estimated walking distance is 5-6km.
How to book this tour?
When you book your cruise tour, simply tick the "Free Hanoi Old Quarter Walking tour" in the special offer box – we will get back to you to confirm your tour via email.