Bai Tu long Bay
There's way more to northeast Vietnam than Halong Bay. The sinking limestone plateau, which gave birth to the bay's spectacular islands, continues for some 100km to the Chinese border. The area immediately northeast of Halong Bay is part of Bai Tu Long National Park.
Bai Tu Long Bay is every bit as beautiful as its famous neighbour. In some ways it's actually more stunning, since it's only in its initial stages as a destination for travellers. Improved boat transport to the scattering of resorts here means the area is quickly growing in popularity with domestic tourists, but the bay and its islands are still unpolluted and relatively undeveloped. For Western travellers, it's a laid-back alternative to the touristy bustle of Halong Bay.
As with Halong Bay, the best way to experience the full gamut of limestone pinnacle scattered along the seascape is by cruise. Hanoi travel agencies, including Ethnic Travel, run boat trips into the Bai Tu Long area. Charter boats can also be arranged to Bai Tu Long Bay from Halong City's Bai Chay Tourist Wharf; rates start at around 300,000d per hour and the trip there takes about five hours.
To experience a slice of slow island life, independent travellers can head to Quan Lan Island.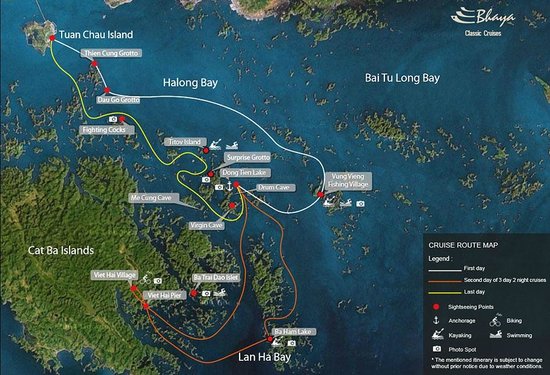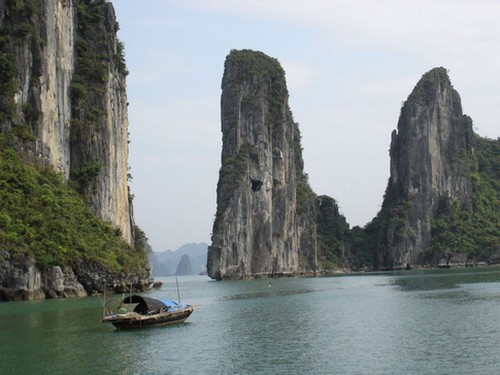 Weather:
The tropical climate of this Bay has divided its weather into two distinct seasons, specifically, hot and humid summer, cold and dry winter. The average temperature fluctuates between 15 °C and 25 °C. Due to its weather, summer is always the peak season of the Bay. If you drop by Bai Tu Long Bay in summer, you can take part in a great deal of energetic activities such as swimming and kayaking. Nevertheless, winter is a good time for ones who want to avoid the tourist crowds. Still and all, in both seasons, you can enjoy your best with the amazing and magnificent scenery of this wonderful Bay.
How it took its name
Identically to Halong Bay, Bai Tu Long Bay owns the same legend. Once upon a time, in order to protect the ancient Vietnam's border from invaders, God sent mother dragon and child dragons down to help Vietnamese people fight the enemy. When the enemy's boats approached the shore, the dragons sprayed countless pearls which then turned into thousands of limestones and became a solid wall that blocked invaders' way. After the victory, since having fallen in love with spectacular landscapes and hospitable Vietnamese people, the dragons decided to stay. The location where mother dragon landed is Halong Bay and where child dragons launched is Bai Tu Long Bay. The dragons' tail hitting the water to create white foam layers later became white sand beaches around Bai Tu Long Bay.
Scenery and Activities:
Bai Tu Long Bay consists of a long range of islands which was created when the whole limestone upland sunk below sea level. Its breathtaking and magnificent beauty is undeniable. In this area, you can enjoy pristine natural scenery. An enormous area of this landscape is still unexplored. Coming to Bai Tu Long Bay, you will have the chance to visit a great many of amusing destinations such as: Cong Do area, Vung Vieng fishing village, Da Xep Park, Cong Dam area, Thien Canh Son cave and Tra Gioi beach. Besides, Quan Lan, Ngoc Vung, Cong Dong, and Cong Tay are the largest, most developed and most populated islands where you can help yourself relax on their beautiful beaches. The special highlight of Bai Tu Long Bay is its national park. This place is really worth seeing because it is the home of many endangered species of birds and animals, as well as plants.
To enjoy your time in Bai Tu Long Bay, kayaking is one of the best choices. This is a really good way to have a close glimpse of charming vivid islets and observe fully the life of people living in floating village. Apart from travelling by boat, you can also enjoy an enjoyable bicycle ride watching insightful dense forests on the islands. The beautiful beaches around the Bay are definitely perfect places for ones who obsessed with swimming and surfing.
Cruise trips in Bai Tu Long Bay:
There are not yet many tours delivered, the beach remains pristine, and residents are more local fishermen than tourism service workers. Among all cruises delivering tours to Halong Bay, a few anchor in Bai Tu Long such as the Paradise Elegance Cruise. These are smaller boats, offering a less luxury but definitely more tranquil feel as one tours the Bay.